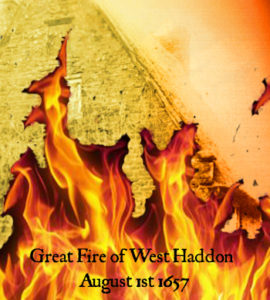 Almost all that we know about Mary Elmes comes from her will. Her late husband, Thomas, had died in January, 1657, leaving her with four grown-up children: John, Joane, Sarah and William. He had also left a will, bequeathing various parcels of land and a couple of houses to his sons, large dowries to his daughters (£100 to Sarah and £200 to Joane – was Sarah the pretty one?) and household goods and  money to Mary.
Mary's will is so detailed that reading it feels like taking a tour of her house as she shares things out among her family.
The desk and the chest in the further chamber to my son William.
The screen in the hall to my son John.
The box in the parlour to my daughter Sarah, with one carpet and three green cushions.
The other carpet and the other three green cushions to my daughter Joane.
The press in the chamber and the bed that I lie in and all the furniture [ie the bed hangings etc] belonging to it and the joined chair that stands at the bedside and my chest in the parlour and all the things in the chest…
A coverlet that is red and yellow and a pair of blankets, one new one and the other worn awhile and two pair of coarse hempen sheets and a bolster pillow…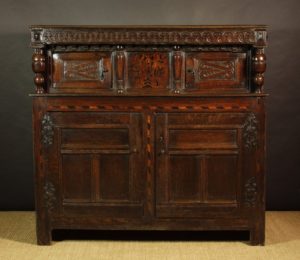 Two cushions of a colour, one of them stands on the court cupboard in the parlour, the cupboard cloth and the wicker chair in the hall…
But life wasn't to be all lolling about on cushions – there was work to be done too.
The salting trough and all the shelves in the buttery to my son John.
One linen wheel [for spinning] to my daughter Sarah.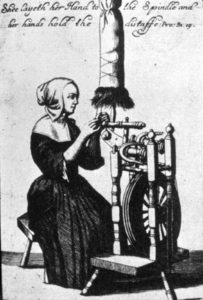 The other, and the winding blades [for winding the yarn] to my daughter Joane.
In addition, each of the boys got a bible and ten shillings went to the poor.
Interestingly, she made her daughter Joane, rather than one of her sons, her executor.