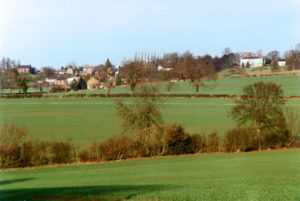 A village in a landscape
West Haddon is a village on the Northamptonshire Uplands. It slopes steeply away to the north, beyond the church, down to the stream that separates us from Winwick. A gentler slope to the south ends in another stream which forms the boundary with Long Buckby. Water almost surrounds us, and a spring line, where the sandy hilltop soils meet the underlying clay, runs along Guilsborough Rd and High St. This line was probably where the original village grew up, where wells could supply the houses without a daily slog down to a stream to fetch water.
The village already existed at the time of Domesday Book, when just a dozen families lived here. It's grown a bit since then.
An agricultural community for most of its history, it had a brief period as a pre-industrial textile community, with hand-weavers and woolcombers outnumbering the farmworkers, then gradually, over the twentieth century, was transformed into a commuter village. Now, a very small proportion of the population here derives any sort of living from the land.
Our Story
J T Page was the first village historian who has left a paper trail. He was one of the last generation of the Page family, which had lived here for centuries. He spent most of his working life in London, first as private secretary to Dr Barnardo and later as chief cashier to the Barnardo children's homes. Then, around 1900, he spent much of his retirement collecting materials and writing pieces for the Northampton Mercury.
E W Lattimore, our village headteacher from 193? -1970 began to put together a comprehensive history of the village, but never finished it.
In the 1980s a local history group came together, embarking on a series of exhibitions, oral history interviews and other research, culminating in a series of books and an early attempt at a website.
Next Steps...
This is should be a prospective customer's number one call to action, e.g., requesting a quote or perusing your product catalog.