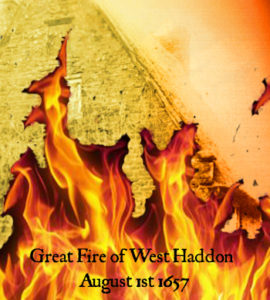 Mark Bonner was a tailor. What his son Thomas did for a living is unclear – he's quite a shadowy figure.
In 1649 Mark had bought a house or cottage from his neighbour, John Warde, along with a little yard and one bay, or section, of John's barn, with a right of way over the yard for the bringing in and carrying forth any manner of stuffe at all convenient times. All of this cost him the princely sum of £17.
Although his son Thomas was also listed as having lost his home in the fire, he vanishes from village records for a long time.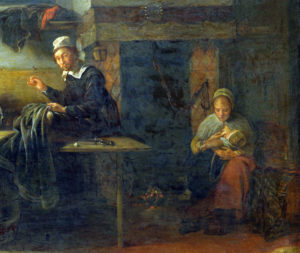 Two years after the fire we find Mark selling part of his property to an elderly widow, Isabella Ringrose – in effect, the barn, converted into a dwelling, along with a small yard and right of way through the jitty to the well to fetch water and also over John Warde's yard. For the 'barn conversion' she paid him £9, with a standing charge of two old pennies per year towards the repair of the well bucket. In the Hearth Tax returns of 1662 and again in 1674 both Mark and Isabella are listed as having one hearth each, but certified as too poor to pay the tax. Had Mark converted the barn as a home for his son before the fire and did Thomas then move away, leaving his father to sell it, or what was left of it?
In 1698 there was a meeting of West Haddon Manor Court. Almost no manorial records survive for this village, but for some reason the Court Roll for 1698 did. And Thomas Bonner was on the list of those expected to attend. (His father had died in 1680.) He had married into a farming family called Bayly who were new to the village. His mother in law left some money in her will to her daughter Martha to her own use, exclusive of her husband and to dispose of as she shall think fit. Thereby must surely hang a tale…