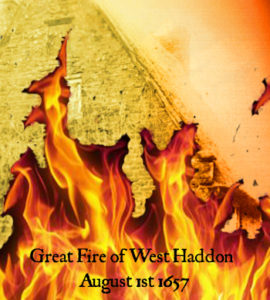 The families who lost everything in the fire have left very little trace behind them. But using a few surviving scraps of evidence we can put together a fleeting, patchy impression of their lives, leaving our imaginations to speculate over the gaps…
Elias Page was a handloom weaver. His father was a small farmer, but Elias wasn't the first member of his family who had gone into weaving – his grandfather had also earned a living at the loom.
When his father had died in 1624 his elder brother Tobias had inherited the farm. His sisters, Judith and Frances, had been left dowries of £10 to be paid when they came of age or married. Elias, still an apprentice at the time of his father's death, was left £5 to set himself up in business at the end of his apprenticeship.
This doesn't seem like a lot of money, but he could probably have bought a loom for a pound and still had enough to rent a cottage and a workshop and cover other expenses until he could establish himself with a regular income stream. He probably worked as a journeyman for another weaver before setting up on his own.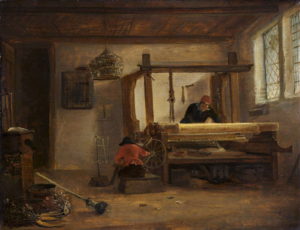 In May, 1656 he married Mary Greene of Northampton. I wonder how the two of them first got together.
They had been married for just over a year at the time of the fire. It must have been devastating to watch the business going up in smoke – there would have been no time to dismantle the loom and get it out of the workshop, even if smaller equipment was saved.
The following year his first child was born – a son called Richard. But family life was not destined to last. For whatever reason, there were no more children and Elias died before his son's 10th birthday. His widow Mary lived for twenty years after the fire. And a labourer called Richard Page was buried at Crick in the winter of 1703.