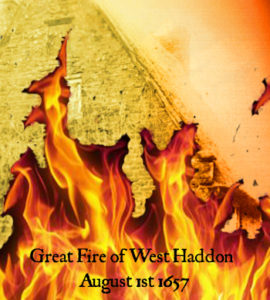 There were no local newspapers to report on a village disaster 360 years ago.
The only reason we know about the fire in West Haddon is because the report of the Court of Quarter Sessions at Northampton Castle in the autumn of 1657 has survived the centuries.
…upon the first day of August last there happened at West Haddon a sudden and lamentable fire which in a short space consumed and burnt down the dwelling houses and outhouses of
Elias Page
Samuel Newman
John Ward
Thomas Bonner
Mark Bonner
Mary Clark,    together with much of their household goods whose loss amounted to £320 and upwards…
£320 was a considerable loss, at a time when a cottage could be bought for less than £40! Over the next month we will discover more about the victims and their neighbours and track down clues that may point to the location of the fire, as well as exploring the life of the village soon after the ending of the Civil War.