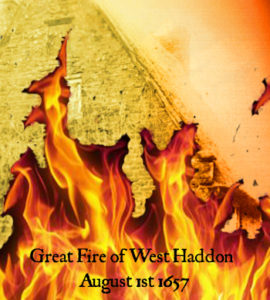 William was a child at the time of the fire. He had an elder brother, Richard (named after his father) and a younger brother, John. His youngest brother, Thomas, born in 1655, had died before he was six months old. He also had two sisters: Susanna (named after her mother) and baby Mary, born just a year before the fire.
We don't know much about his life, except that it was short. But we do know that in 1670 he bought a piece of land. He bought it from Thomas Kirtland. Thomas had bought it a few months before the fire, in April 1657, from a man called Richard Harris. It was an example of 'market infill', where an old market place gradually gets filled with buildings. West Haddon's market had been in operation since before 1275, but competition – especially from Long Buckby, had led to a decline until by 1600 John Shuckburgh, who owned the market and derived an income from the tolls charged to traders, decided it wasn't worth continuing and put the land up for sale. It passed through several hands, possibly being used at first as grazing, but we know that Richard Harris built a house on it. A year later he split off a quarter acre of his plot and sold it to Thomas Kirtland.
Thomas may well have used the quarter acre for the animals he was fattening, but for some reason he put it up for sale in 1670. And young William Ringrose bought it for £6! He built a cottage on it, but very soon after made a hurried will. Had he been injured in an accident? Or suddenly fallen ill? The will was made on 15 October 1672 and he was buried two days later.
He left money to his brothers and his sisters inherited the cottage. By the time they came to sell it, in 1682, Susanna was the wife of a yeoman at Cottesbrooke, while Mary, now about 26 and still single, was living in Westminster (doing what?We don't know.) Unable to write, the sisters both signed the deed of sale with their marks.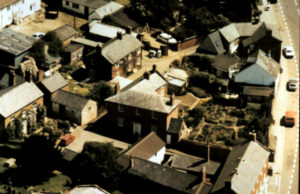 Over the years the cottage was altered and added to and the quarter acre was gradually filled up with workshops and outbuildings. We know it now as the point of the Crown Lane triangle. Possibly the little cottage at the back, with the steeply pitched roof, may represent the original cottage that William built, or it may have disappeared under a later rebuilding of Manchester House.