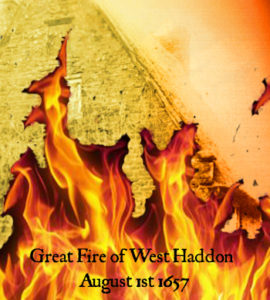 When John Bland of Long Buckby came courting Lettice Miller of West Haddon her parents, Richard and Elizabeth Miller, approved the match and settled a house and some land on the happy couple when they tied the knot in the summer of 1656.
The first baby arrived promptly the following January. She was a little girl and they called her Elizabeth, after her grandmother. Very soon after, Lettice found herself pregnant again, probably just before the fire. The little family was not among those who lost everything during that disaster.
But there was sorrow in store. The following February baby Elizabeth died. She was buried on 4 February and only days later Lettice gave birth to another daughter. The new baby was baptised on 15 February and she was also given the name Elizabeth. (It was quite common at that time to name a child after a dead sibling – in this case it honoured her dead sister and her living grandmother.)
A number of other children followed, including Nicholas, who decided as he grew up that country life wasn't for him and took himself off to London to seek his fortune. He became a City of London waterman, operating a boat on the Thames, taking passengers up and down the river – often a quicker way to their destinations than negotiating the narrow and crowded streets of the capital.
Nicholas spent the rest of his life in London and in due course his son William followed in his footsteps. The Bland house in West Haddon had been rented out for many years, but in 1729 William put it up for sale and the house, with the close behind it, was sold for a little over £60. Thomas Patch bought it and it remained in the Patch family for over a century, eventually becoming what we know now as The Old Brickyard.